In March/April 2013, I worked with Fanny Posselt in the Kalahari-Desert supporting a group of bushmen-people, or San people, with skills training and interest free micro-loans to their businesses. We gathered in different places, had dialogues about their reality, their experiences so far with running a business, supporting each other and their dreams and opportunities for the future. It was a great learning experience, and gave good results for all involved; a will and courage to continue with their businesses, buildings they can share and electricity.
Fanny Posselt
Fanny Posselt is the owner of the world's most traveled hot-dog stand. And she has traveled many places to inspire for change. And I was honored when she asked if I would like to join her to visit and support one of the places she focuses her creative energy: In the Kalahari Desert – the bushmen/San community. Traditionally the San people were hunters -gatherers, but their land was taken from them. And is now parks for the tourists to enjoy the wild animals.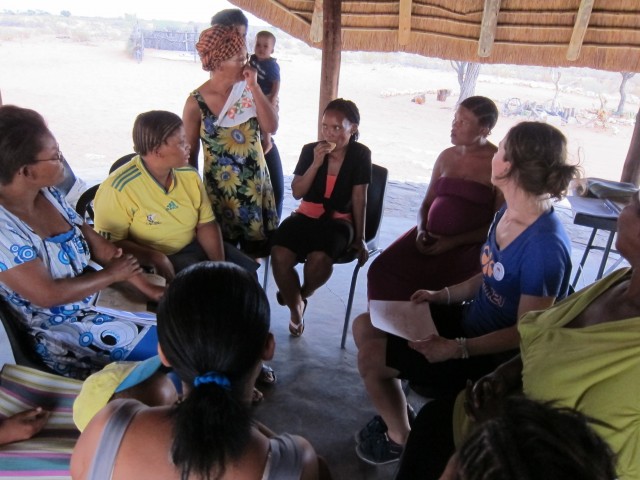 Electricity and buildings
One of the challenges the group has is electricity. It is challenging and expensive to get electricity. A challenge to keep food fresh when you have a farm kitchen, when you are a butcher, when you want to sell food to your local community. Other challenges in the community are the far distances, poverty, water, alcohol…One of the dreams the group has is to have some buildings together where they can support each other, share electricity and water. Before we left we helped the group to sign a contract with one organization, so they can use some buildings in their community for free, and keep them in good shape and organize electricity.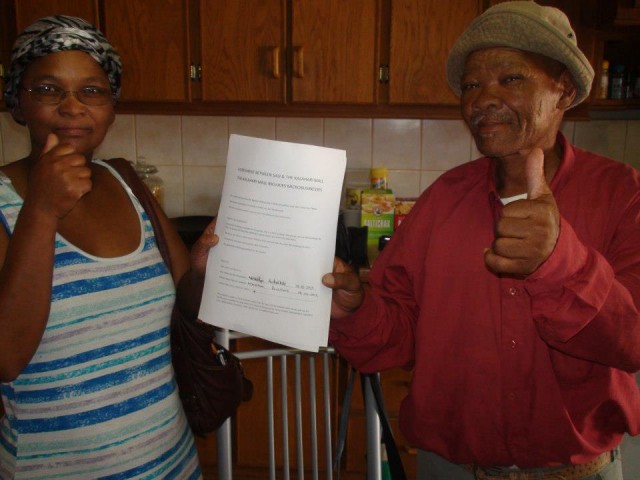 Patricia and Ohm Joe, two happy micro-business owners, with the contract.
Trust and friendships
Before we arrived in the desert, we heard from the group that they were so much looking forward to seeing us and work with us. It was great to contribute to the trust and the friendship Fanny and the group had developed over the 3 last years. It was a gift to be invited into their challenging history, reality and dreams. And an honor to contribute to their learning and courage to continue with their businesses. I was happy to meet and involve some young people in the workshop so they could express themselves and listen to the wisdom and strength, these women and 1 man carry. When I left, my heart was filled with new friendships and hopes for the future.